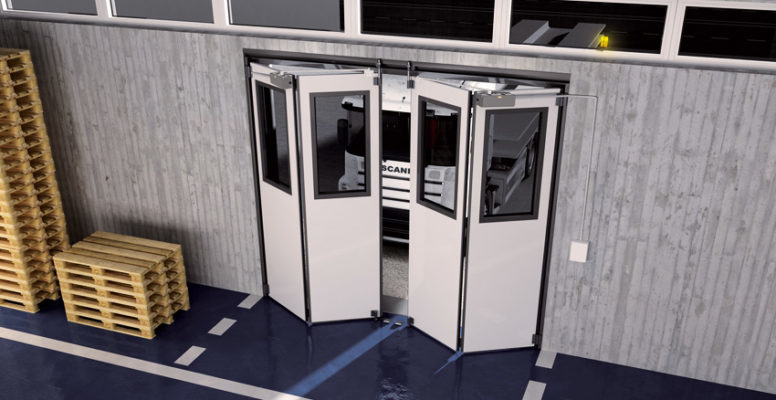 Automations for industrial doors: which one to choose?
Automations for industrial doors: various types
TAU Italia offers various innovative solutions with regard to the industrial door automation sector. Leader in the sector, TAU offers a wide range of automation products, from those for gates and doors to those for industrial doors. On the website you will find all the offers for your company. In fact, our products in the field of the industrial door automations offer solutions for both book-like openings (two leaves plus two leaves) and sliding or sectional doors.

–
Automations for book-like opening
For book-like openings of the two-plus-two leaf type, we offer two solutions with different technical features. The first one is BIUNO, a 230V irreversible gearmotor for book-like leaves (1.20m each). The second is the BIUNO/BT version, for low voltage solutions (12V). BIUNO, complete with bracket to fix it to the door (telescopic arm excluded), is particularly suitable for medium-sized openings and very practical because of the fact that it can be used at low voltage and is quite small (43x15x12).
–
Automations for sliding and sectional doors
For the solutions with sliding openings, we make available the products of the F10C/F15C and INDY series. The 500F10CA1 (230V gearmotor with chain drive and limit switch) and 500F15C1 (400V gearmotor with chain drive and limit switch) belong to the first series. Both are characterized by small dimensions (32x20x21cm) and have a maximum capacity of 1500kg. They are particularly suitable for large doors, sliding or folding. For better precision, we recommend you use the version with separate limit switch. On the other hand, the INDY series is suitable for sectional doors and offers an easily-adjustable, in-built, electrical limit switch. The two versions (the 230V, 50 Nm 650 INDY and 400V and 100 Nm 650INDYT) are characterized by gearmotors with a rotating shaft and possibility of chain emergency operation.